What's to Do
Wildlife spotting
It won't be hard to see all sorts of Australian native wildlife in and around the facility. Kangaroos, Wallabies and Kookaburras will be an everyday occurrence.
Go for a hike and look out for the shy and elusive dingo or head down to the creek and spot a platypus if you are lucky.
Echidnas live in family groups and can be seen mostly at night.
The occasional Koala can be seen or heard (they bark like a dog).
Yes we do have snakes but they are much more scared of you than you are of them. Predominately we see red belly black snakes which will get out of your way before you get close.
Down by the creek you may get lucky and see one of the beautiful, majestic pythons. These are completely harmless but don't try to touch them. They will bite if provoked but they are not poisonous.
There is even a herd of wild brumbies close by on the property.
Fishing
At Emu Creek or the Clarence River try your luck at fishing. There's a good chance you will pull in a catfish or bass.
Bushwalking
There are miles and miles of great walking through the forestry plantations and bushland on the property just talk to us about the best ones to do.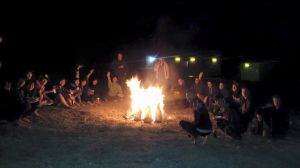 Relaxing
Dream the day away lying in one of our hammocks between the gum trees.
Canoeing
Feeling a bit more adventurous. The Clarence river offers great canoeing adventures. Talk to us about the local establishments that can provide this. The link to one of the most popular ones is below. http://clarencerivercanoes.com/
Further afield
If you would like to go further afield we can recommend some great scenic drives and places of interest.